Top Organisation and Time Management Apps for Small Business's
BambooHR
BambooHR is an online Human Resources Information System that allows you to reduce hours and hours spent chasing paperwork and missing pieces of information. In fact, BambooHR  pulls everything including job and salary history, benefits, training and even documents into one centralised location that you can access in the office, at home or on the road. The software then lets you filter, group and sort the data with custom reports or choose from a library of 1,000 common reports. You can even take advantage of automated time off requests and approvals, with the ability to create your own categories of time off – such a sick days, bereavement, jury duty and more. Better yet, you can receive alerts to stay one step ahead, with alerts available for training deadlines, license renewals, birthdays, benefit dates and more.
Boxmeup
Boxmeup is a free Android app that organises and tracks your packages and/or containers. Allowing you to print the proper QR labels, which you can scan, allowing you to a pull up a list of items in the container on your phone at any time, wherever you are. You'll also be able to search all of your containers to find a specific item, however, unfortunately there is not an app compatible with the iPhone yet.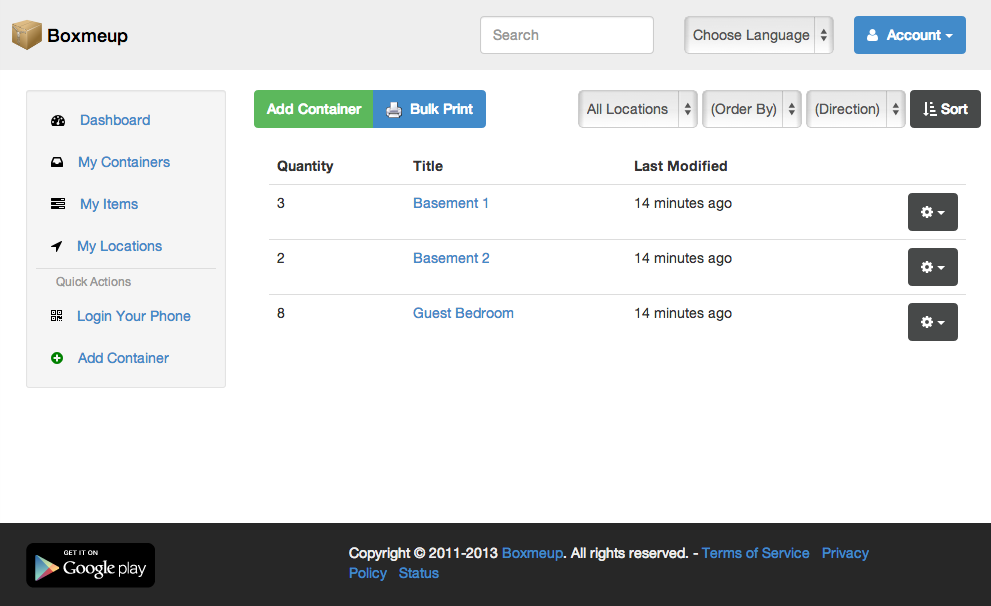 Evernote
Often referred to as an 'external brain' – EverNote is a free app that organises your articles, docs, photos, check-lists and even thoughts in the form of your very own digital notebook. Add text, images, audio, scanned docs, PDF's, invoices, receipts and more. EverNote can store and organise almost anything in one easily-searchable location for your complete convenience. EverNote also offers 'work chat' so members can discuss notes without leaving the app and digital notebooks can be shared between colleagues.
RescueTime
RescueTime automatically tracks the time you've spent on applications and websites so you can receive an accurate picture of how you're spending your day – and your productivity levels. You'll receive detailed reports based on your activity, showing you how you could improve on your time. You'll also be available to set goals and view up to 3 months of history. The app is available for Mac, PC, Android and Linux and is available for free in the Lite version or at a cost for the premium version that includes added features such as alerts, the ability to  block distracting websites and more detailed reports and filters.

Tripit
The Tripit app puts all your travel plans into a single itinerary, making it easy to stay on top of your business travel plans. By forwarding all your travel emails such as flight, hotel and car rental to Tripit, the application will manage all of your travel information, regardless of what websites you use to purchase your tickets. Or if you use Gmail, Outlook.com or Yahoo Mail, Tripit can import your travel-related confirmation emails automatically – no forwarding required. This forms a master itinerary that you can access at any time, on any device. You can also check departure times, directions to your chosen airport and even weather reports through Tripit, as well as receive notifications about any delays. Better yet, you can access your itinerary offline, while in flight or to avoid roaming charges when travelling abroad. Tripit works with iPhones, iPads, Android, BlackBerry and Windows Phone 7, as well as Macs and PCs, and can be downloaded for free or $0.99 for an ad-free version.